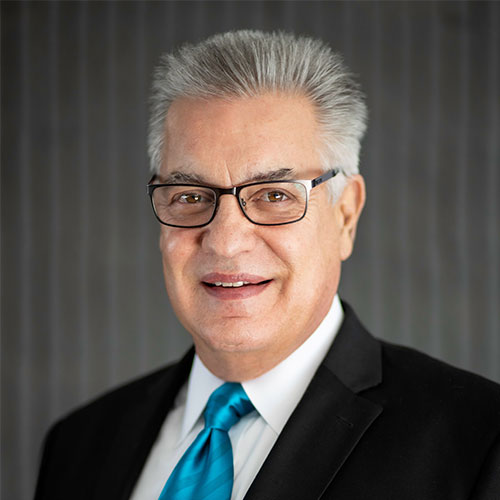 Jan Mohamed, CFP®, CLU, AEP
Jan is a truly passionate man whose career continues to focus on generational business transfers to "keep the wealth in the family." Over Jan's 40 years in the financial services industry, he has founded several Insurance and planning consulting companies. Jan and his team have assisted thousands of individuals, privately held businesses and medical practices to make smart choices with their money.
What makes Jan unique is the way he coordinates the work with all involved in the creation, development and on-going management of a successful plan or strategy. These include the attorney, CPA, Enrolled Agent, actuary, and banker. They become a collaborative team which assures all that the plan is the result of solid thinking, implemented and updated on a timely basis.
Jan develops lasting relationships and is always involved in the initial meeting. Because of his experience, he has the ability to simplify the solutions presented to keep everyone involved in the conversation. His extensive background in financial services, coupled with decades of coaching, creates a unique combination of skills that bring confidence to the client and complete clarity to others involved in the planning.
Jan has been involved in The Strategic Coach™ program for over 20 years; eleven years as an associate coach. As a coach he worked with entrepreneurs throughout the country to multiply their business success and enhance the quality of their professional and personal lives.
Jan earned a degree in Business Administration from The Indiana University of Pennsylvania. The Chartered Life Underwriter and Chartered Financial Consultant designations are issued by American College and the Certified Financial Planner designation conferred by the Certified Financial Planner Board of Standards.
Jan is a consummate volunteer. If there is a need, he is first in line to render leadership and assistance. He is a longtime greeter and usher at St. Thomas Aquinas church after many years on various boards at St. Bernard of Clairvaux Catholic Church where he was awarded "The Spirit Award" as volunteer of the year for his work.
Jan received "The Cigna Man of The Year" Award for his "Service First" attitude to client service and for his contribution in the development of other financial advisors. Jan has been recognized seven times as a Five Star Wealth Advisor by Forbes and Texas Monthly magazines, an honor voted on by his industry peers.
Jan and his wife, Marian, are the parents of a daughter, Emily. They reside in a historic home on Swiss Avenue in Dallas, Texas.
Professional Licenses: 
/ / / / /
Securities: Investment Advisor Representative
Insurance:

Life, Accident & Health, & Variable Contracts
California License # OCO3331